Comparing the 2019 Honda CR-V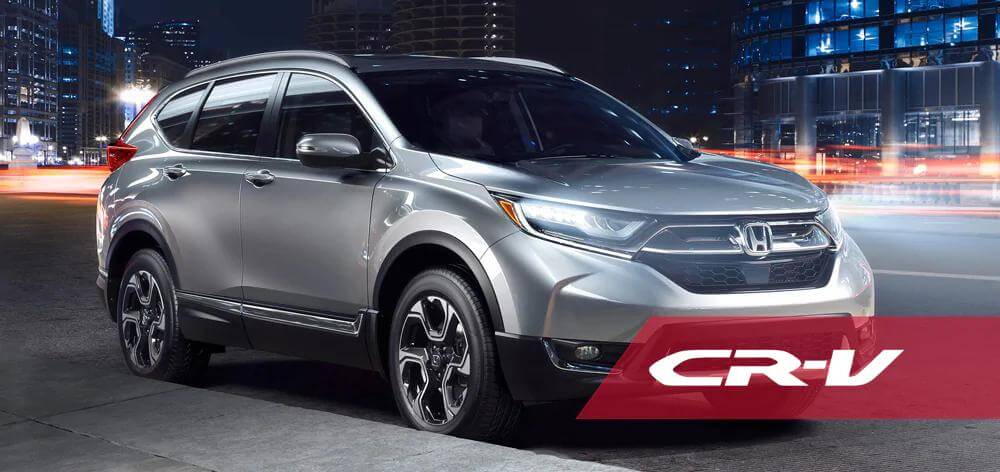 Compact SUV Best Buy of 2019
by KBB.com Editors | November 12, 2018 10:55 AM
2019 Honda CR-V
Small SUVs continue to get more powerful, more fuel efficient
Enticing mix of versatility, efficiency and comfort
More cargo area, better visibility than sedans
Compact SUVs make up more than 2.7 million vehicles sold each year
What's the most recommendable small SUV for the most people?
Once again, the answer is the Honda CR-V. In the five years the Kelley Blue Book Best Buy Awards have existed, Honda's compact crossover has won its category four times. Given that the small SUV segment continues to grow in popularity with each, that's no mean feat.
Standing Out Amid a Raft of Rivals
Winning this category also means the Honda CR-V bettered some dozen competitors, including all-new versions of formidable challengers like the Subaru Forester and long-time archrival the Toyota RAV4. The Honda CR-V excelled in every category, from its class-above interior size and flexibility to its fuel efficiency and safety features. Throw in useful tech features and a sterling reputation for reliability and resale value, and the CR-V continues to pull ahead of the pack. Whether you're looking for a safe, practical, easy-to-drive and easy-to-own car for a younger driver or a leather-laden mainstream SUV that could give some luxury vehicles a run for their money, there's a CR-V to meet your needs.
The CR-V itself was totally revamped just last year, and with the all-new model came a small but efficient turbocharged engine, Apple CarPlay/Android Auto smartphone compatibility, and the Honda Sensing system that bundles active safety and driver-assistance features like automatic emergency braking, blind-spot monitoring, lane-keeping assist and adaptive cruise control. Skip the base LX model and you'll get all those features standard, plus unexpected creature comforts like 12-way power operated and heated driver seat.
Outsized Interior and Excellent Efficiency
Practical by birth, one of the CR-V's best traits is just how much room there is in its otherwise compact footprint. Presenting 75.8 cubic feet of usable space with the rear seats folded flat, the CR-V's cargo space remains near the top of its class. That figure even edges the larger, all-new 2019 Hyundai Santa Fe, itself a highly recommendable crossover SUV with a larger footprint that is good for growing families.
Also impressive: the MPG the 2019 Honda CR-V returns. The older, 2.4-liter engine used only in the base LX model still gets up to 34 mpg on the highway. The new, smaller, and more powerful 1.5-liter turbocharged 4-cylinder that is used (and recommended) in the rest of the lineup is only a tick behind, boasting up to 33 mpg. Whichever powerplant or trim you choose, you can get all-wheel drive for added traction and more confidence on slippery, weather-fouled roads.
Enviable Resale Value and Reliability
No writeup about a Honda would be complete without mentioning the brand's strong reliability and resale value. These two characteristics are especially noteworthy in the CR-V. Its reliability has been enviable over its 20-plus year existence, and it's a mainstay among Kelley Blue Book Best Resale Value Award winners.
There are now more than a dozen small crossover SUVs competing for space in your garage. Almost all have at least one standout trait, but none are more well-rounded or more recommendable than the 2019 Honda CR-V.
All-New Toyota RAV4 and Subaru Forester Take on the Honda CR-V
There are clear reasons why compact SUVs are so popular. A small SUV's versatile interior makes it easy to transport larger gear, five passengers, or any combination therein. They have a larger cargo-carrying capacity behind the second row than midsize sedans do. A slightly higher ride height offers better visibility. Available all-wheel drive offers all-season confidence. Ride quality, comfort and fuel economy, and even sportiness compare favourably to that of sedans. And with every new generation of a familiar SUV, or the introduction of an all-new model, that mix of versatility and fuel economy improves, making the compact SUV segment highly competitive, and giving buyers an excellent array of vehicles from which to choose.
The KBB editorial team brought in a trio of key players for the 2019 model year. There's the highly popular Toyota RAV4, which is all-new this year. Not only is it the best-selling Toyota and best-selling compact SUV, but the RAV4 is fourth the hottest seller in America, trailing only pickup trucks. The Forester is also all-new for 2019, riding on a new platform and expanding on what people already like about this Subaru. Rounding out the comparison is our four-time Best Buy Compact SUV winner, the Honda CR-V.
We took all three of these on an lengthy drive that included a mix of city traffic, freeway driving and twisty roads, and because all of this was in Southern California, we had plenty of time in stop-and-go traffic, too. Stepping out of the driver's seat of each SUV, we also noted rear-seat room and cargo-area versatility.
Which SUV came out on top? Our comparisons are more about what we learned while evaluating each one than picking a winner. One of the most interesting aspects of these small SUVs is that each one appeals to SUV shoppers in a different way. Here is what we learned during our testing and evaluations.
2019 Honda CR-V
Practical, efficient and comfortable
Two efficient engines to choose from
Expansive list of safety features
Honda's Small SUV Rises to the Occasion
It's not easy to stay relevant and popular when every year brings such strong vehicles to the compact SUV segment. But Honda has found a winning combination in the CR-V, and simply improves upon it. All-new just last year, the CR-V is available with two fuel-efficient engines including a sprightly optional turbocharged option, a long list of safety features, an impressive list of standard equipment, and an interior that feels larger than the small SUV's size would suggest. The CR-V's model line has enough range to appeal to buyers on a budget and those who want a mainstream SUV with ample levels of luxury.
The refined cabin is filled with plenty of available features, including Apple CarPlay/Android Auto compatibility, heated front seats, including a 12-way power driver's seat with memory, leather and navigation. And all models but the base LX come with Honda Sensing, a suite of safety features that includes forward collision warning, lane departure warning, road departure mitigation and collision braking. Adaptive cruise control, blind-spot warning with a cross-traffic monitor, and lane-keep assist are also standard on all but the base LX. Of the few critiques we have of the CR-V, it's that some of the accent materials, such as the woodgrain pieces and the stitching on the dash, could use some sprucing up.
On the Road
This Honda feels tight and nimble on the road, furthering the "small outside, big inside" feel of the CR-V. It is a snap to maneuver around town and the turbocharged engine has plenty of passing power and zip for highway jaunts. Of the three SUVs we tested, the CR-V was the one that offered the best combination of comfortable ride, easy-to-drive nature, and responsive handling. That it does all that while netting admirable fuel economy is a plus that can be credited to the smartly designed engine and well-tuned CVT.
Value Now and Later
The Honda CR-V provides an excellent value proposition. Not only does it offer excellent fuel economy, as good as 34 highway mpg, but the Honda brand is known for strong resale value and reliability. This means that you save money with fewer trips to the gas station; taking it to the dealership for repairs less often for repairs reduces the cost of ownership; and when it comes time to sell, you get more money back on your initial investment.
2019 Subaru Forrester
Roomier, with more available features
Updated engine brings more power, improved fuel economy
Smarter interior, cargo area design
The Practical Choice for an Outdoor Lifestyle
Subaru has found a happy niche in the compact SUV segment. The only company where all of its SUVs come standard with all-wheel drive, and the only company that offers a flat-4 in a compact SUV, Subaru has long taken the road less traveled, and designs its SUVs to encourage you to do the same. It's this individuality of spirit and rugged outdoor lifestyle appeal that draw people to the Subaru brand, so when the company brought out the all-new Forester for 2019, it didn't mess much with success.
Bigger Inside, Better Packaging
The new Forester grew a touch on the outside, but the interior redesign made the cabin roomier all around. This was most apparent in the second row. And while this compact SUV is somewhat narrower than the competition, it is wider than the previous Forester, which gives the cabin an airier feel. Our tester had brown leather seats and black accents, with a design that felt upscale yet outdoorsy. The Starlink infotainment setup is easy to use, and the main screen is easy to read with a quick glance. The Forester's cargo area is larger than in the previous model, but most notably the cargo area is extremely wide, 5.3 inches wider than in the prior Forester, making cargo storage and access very easy.
The 2019 Subaru Forester offers cool features that the Kelley Blue Book team appreciated, such as EyeSight, which controls lane-keep assist, adaptive cruise control, pre-collision braking and pre-collision throttle management. Another available feature, DriverFocus, can politely alert a distracted driver when the vehicle ahead has moved. It can also slow the car to a full stop if it senses that the driver has not looked ahead for three seconds. Apple CarPlay and Android Auto are standard, and leather seating, heated front seats, blind-spot alert, and a power tailgate are available options.
Driving the Forester
The Subaru Forester rides on a new platform, which increased rigidity and improved handling. The engine puts out enough power, and while it's no barn-burner, did a fine job on grades and accelerating on freeways. However, the start/stop system could use another dose of refinement. The ride proved comfortable, the Forester's attitude easygoing. With the larger interior comes better visibility, thanks in no small part to the wider tailgate and its larger glass. And if you want to go further than the standard AWD can take you, available Dual X-Mode can get the Forester there.
For the Value Shopper and the Outdoor Enthusiast
The 2019 Subaru Forester's changes may be somewhat subtle, but the end result is a vehicle that offers a compelling value for those who need the confidence of standard all-wheel drive and want the ability to experience the great outdoors on a whim. As is the case with the Honda and Toyota, Subaru is also known for its reliability and strong 5-Year Cost to Own data.
2019 Toyota Rav4
Bold SUV styling sets RAV4 apart
Gas and hybrid models are more fuel efficient, up to 39 mpg combined
New platform improves handling
Safety Sense 2.0 comes standard
New Look, New Attitude
The 2019 Toyota RAV4 rides on a new platform, the company's Toyota New Global Architecture, that brings with it less weight and a new suspension, both of which give the RAV4 some pizzazz that previous models lacked. On top of that new foundation is a new angular body that looks more SUV-like, with a more planted stance and well-defined wheel wells and body lines. But as different as the new RAV4 looks, it still carries with it the same philosophy: making safety, comfort, efficiency and reliability high priorities. Another trick up its sleeve: the RAV4 is one of a very select few in the compact SUV segment to offer a hybrid option.
Top-Notch Interior, Impressive Amenities
Toyota offers several trim levels and either cloth or SofTex seating, with themes that run from practical and basic to sporty or premium. (Leather isn't available.) We were impressed by the attention to detail inside, where there are more soft-touch materials, and the black and tan color combination of our tester was simple yet attractive. Both the touch screen, which is the control center for Apple CarPlay, navigation and audio, and the climate control knobs below use grippy surrounds, which offer a pleasant tactile feel. Previous RAV4s boast roomy interiors, and that continues with the all-new model. Of the three SUVs we evaluated, the RAV4 has the roomiest back seat and it should be noted that the RAV finally comes with air vents for rear passengers. That roominess is also present in the huge cargo area. Some road noise was transmitted into the cabin, but wind noise was pleasantly low.
Toyota Safety Sense 2.0 is standard on all 2019 Toyota RAV4s, which means they all receive adaptive cruise control, lane departure warning with steering assist, and a pre-collision system with pedestrian detection that can also detect cyclists during the day. Optional features include heated and cooled front seats, a 360-degree view camera, as many as five USB ports, 11-speaker JBL audio, panoramic moonroof and Qi smartphone charging. You can also get torque vectoring or gear for light off-roading. However, Toyota missed an opportunity here by neglecting to offer Android Auto compatibility, and some of the soft-touch materials are optional, so you have to climb the trim-level ladder before you get all of the nice interior pieces.
Driving It
The 2.5-liter gas engine, paired with an 8-speed automatic, provides decent power, but for a peppier drive, we recommend putting the RAV4 in Sport mode, where you can enjoy quicker downshifts and higher-rpm upshifts. Handling is a huge improvement over the previous RAV4, which felt a bit wallowy. The RAV4 feels crisp and more responsive, but the CR-V still offers the best handling of the trio. This is the only engine option for the gas RAV4, but it's a good one. For more power and even better fuel economy, you can look to the hybrid model.
Strong Value Quotient
With the new Toyota RAV4, the manufacturer offers a lot more standard equipment than the cost of the slight price increase. In addition, Toyota has a rock-solid reputation for reliability and resale value. And in both gas and hybrid form, the RAV4 has excellent fuel economy, anticipated to be best in class, reducing the number of times you'll need to spend money on gas.